Multi-Split system outdoor unit. (WxDxH, mm): 900 x 320 x 1070. Cooling/Heating capacity: 12.0/13.5kW. Weight: 87kg. Liquid / Gas Pipe (OD, mm): 6.35 x6 / 9.52 x5 + 12.7 x1. Requires a minimum combination of 2 and a maximum of 6 indoor units (up to Class 80), with max. class total of 180.
Connect multiple indoor units to a single outdoor unit.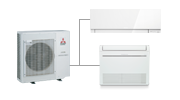 This system gives you the freedom to select the indoor model best suited to each and every room in your home. Multi-Split Systems are designed to allow multiple indoor units of varying capacity and type to be connected to just one outdoor unit, enhancing exterior aesthetics by reducing the number of outdoor units required.
If more than one room requires heating and cooling, a Multi-Split system may be right for you. This system allows the indoor units chosen to reflect the specific needs of each room. For example, a whisper-quiet high wall could be selected for a bedroom, while a floor console could be used to replace a fireplace in the living room. The indoor units selected will be powered by just one outdoor unit, lowering the overall capital cost and increasing the energy efficiencies achieved.